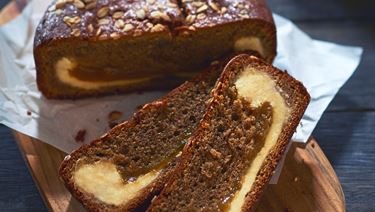 Kaya Coffee Cake
Method:

1. Preheat the oven to 350°C or 170°C
2. Grease and line a springform pan.

Filling:

1. Soften the cream cheese with the sugar, lemon juice and vanilla. Set aside.

Cake:

1. Sift together the flour, baking powder, baking soda and salt.
2. In a separate bowl, cream the butter and till light and fluffy.
3. Add eggs, one at a time, beating well after each addition.
4. Add in the vanilla.
5. Add in the flour mixture and sour cream alternately, starting and ending with the flour.
6. Set aside about 1/4 of the batter.
7. Make the coffee into a paste with the water and mix into the remaining batter.
8. Spread half of the batter in the tube pan.
9. Mix the 1/4 batter with the cream cheese mixture.
10. Spread cream cheese mixture on the batter in the pan.
11. Spread the kaya jam on top of mixture.