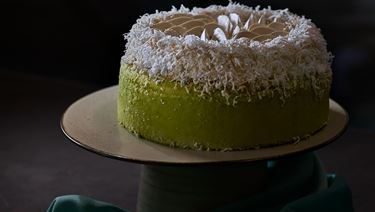 Pandan Gula Melaka Cotton Cheese Cake
Recipe by: Chef Bernard Tan
Pandan Gula Melaka Cotton Cheese Cake

Blend pandan leaf with milk and sieve it. Double boil cream cheese, pandan milk, butter, and pandan essence until get a smooth batter. Remove from heat, add in egg yolk, cake flour and corn flour. With whisk attachment, whip up egg white, sugar and gula melaka until soft peak. Mix well both batter, pour in into baking mould and steam bake. Bake in 200 C for 20 minute, then change to 160 C for 20 minute. Lastly, bake in 110 C for 1 hour.

Gula Melaka Cream

Whip all ingredients until creamy and fluffy.