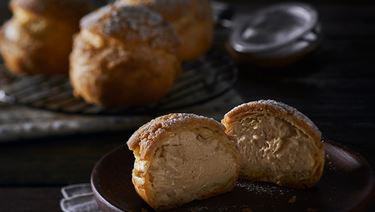 Choux Craqueline Gula Melaka
Recipe by: Chef May Foo
Craquelin Topping:

Combine butter and gula melaka in a mixing bowl. Cream till smooth. Mix in flour & Salt till smooth dough is formed. Place the craquelin dough between 2 sheets of baking paper. Flatten with rolling pin (+/- 2mm thickness). Chill for 30 minutes till dough is firmed to cut.

Choux Pastry:

Boil water, milk, butter and sugar in a small pot Away from heat, stir in flour till dough is smooth. Place the pot back on low heat and stir for 2 – 3 mins Transfer the dough to the mixer, gradually bringing down the temperature. Paddle attachment, low speed. Add in eggs and continue to beat until dough is smooth. With a large round piping nozzle, pipe around 35 – 38g choux puffs on a greased baking tray. Bake at 180°C.

Assembling the craquelin choux:

Use a round cookie cutter, cut out small dics of chilled craquelin dough and place on top of choux puff. Bake for 30 – 35 minutes until puffs are evenly browned. Allow to cool completely before piping filling into the puffs.

Cream Cheese Mousse:

Combine sugar & water into a small pot until caramelize Stir in Lurpak Soft, coconut milk, gula melaka & salt. Strain and allow mixture to completely cool down. Beat cream cheese till smooth using a mixer. Pour in salted gula melaka caramel & gelatine Fold in whipped cream. Mix well & keep the mousse chilled before piping into the puffs.