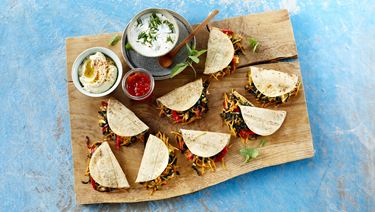 Chicken, pepper and mozzarella tacos
TACO SHELLS

Pour flour, salt and water into a container. Mix to form a dough ball and let stand at room temperature for 1 hour. Divide the dough into small pieces, roll out to 20cm diameter with a roller. Heat a non-stick pan and cook on low heat for a few minutes on each side.

GARNISH

Fry onion in a little olive oil and add chicken strips. Season with salt, pepper and cayenne pepper. Add ½ glass of water and cook over medium heat. When chicken is cooked, add the peppers and simmer for a few moments.

ASSEMBLE

Divide the cooked chicken and peppers over the taco shells. Add the shredded mozzarella, fold taco shells into half and grill until cheese is melted.