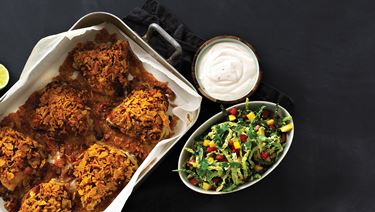 Mexican chicken with salad
CHICKEN

Place chicken pieces in a dish and season with salt and pepper. Crush the corn chips and mix them with the shredded cheddar cheese. Pour the salsa over the chicken pieces and sprinkle with the cheese and chips mixture. Bake at 200°C for about 30 minutes.

SALAD

Combined cabbage, mango, peppers and other ingredients. Adjust the seasoning to taste and serve.