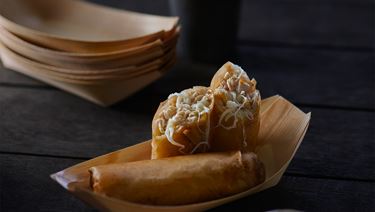 Cheesy Chicken Spring Roll
CHICKEN

Add spices and seasoning in water and boil chicken. Once cooked, finely shred chicken and chop chicken skin finely

FILLING

Heat Arla Pro Whip & Cook for 10 – 15 secs until thickens. Stir well and then put aside. While chicken is still hot, add parsley, pepper, garlic powder, onions and cheese. Then add the reduced Arla Pro Whip & Cook. Mix well (ensure filling is wet but not runny). Divide mixture into 5 portions

SPRING ROLL

Add filling on to spring roll and wrap accordingly. Use eggwash to seal the sides. Keep spring rolls in the chiller for 20 minutes before frying.