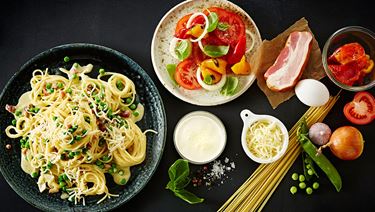 Spaghetti carbonara with tomato salad
Cook spaghetti al dente & according to package directions. Drain the spaghetti in a colander and set aside.
Place bacon in a cold pan and cook over medium heat for about 5 minutes until it is crisp and golden. Remove the bacon, but leave a little fat in the pan. Add the onions and garlic to the pan and sauté for 2 minutes. Add the cream, salt and pepper and bring to the boil.
Beat the eggs and 100g of cheese in a bowl. Return to the pan and add peas. Next add the hot cream, bacon and the mixture of eggs and cheese onto the spaghetti. Adjust the seasoning to your taste and serve immediately with the rest of the cheese and the tomato salad.