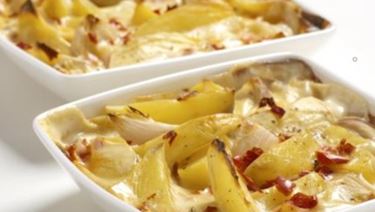 Potato Gratin
Preheat oven to 375°F (190°C).
Peel potatoes; slice into rounds no thicker than 1/8 inch (0.3 cm). In a medium saucepan, melt butter over medium heat; add garlic and salt. Stir 1 min. Whisk in flour until combined. Gradually add cream, whisking until combined. Bring to a boil, whisking occasionally until thickened, for 2 to 3 min.
Layer half the potatoes in an 8 x 8-inch (20 x 20 cm) baking dish. Scatter with half the thyme. Top with half the cream sauce. Repeat with remaining potatoes; drizzle remaining cream mixture over top. Press potatoes to even out layers and coat in cream. Cover with foil. Bake for 30 min.
Sprinkle with cheddar cheese and remaining thyme. Bake uncovered for 15 min until bubbly and top is a deep golden brown. Let stand for 10 min.