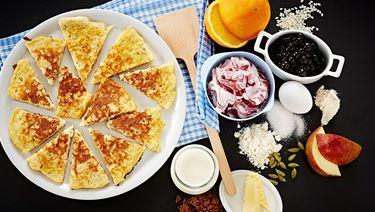 Rice pudding pancakes with apples and blackcurrant cream
Combine the rice pudding, apples, vanilla, cardamom, lemon peel, sugar, flour and egg yolks in a bowl and stir well.
Beat the egg whites until stiff, then carefully fold them into the pancake batter.
Brown the butter in a frying pan and make four large pancakes, one at a time.
Cook each pancake until done on one side before flipping it over with a wide palette knife.
Marinate the berries in sugar and mash them slightly so the sugar melts.
Whip the cream until stiff, then stir in the berries.
Cut the warm pancakes into pie-shaped wedges. Serve with the berry cream.
The pancakes can also be served cold.
One of the challenges of this type of pancake batter is that it takes a long time to cook. In this recipe, the pancakes are intended to be large and then served in wedges, but it is also possible to make smaller pancakes.