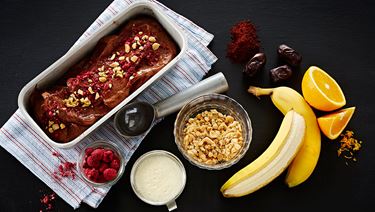 Banana ice cream with cocoa and peanuts
An amazing recipe for a sweet yet healthy snack or as an ice-cold meeting refreshment. The frozen bananas give the ice cream a creamy consistency, and the sweetness comes solely from bananas and dates. There's no added sugar – only natural and flavourful ingredients. The salty peanuts and tart dried raspberries form a refined and delicate contrast to the ice cream. Bon appetit!
Chop the dates and refrigerate. Take the bananas out of the freezer 5 minutes before they're to be blended. Place the bananas, cocoa, dates, cream and orange juice in a food processor and whizz until you have a delicious and creamy chocolate soft-serve ice cream. Add orange zest to taste.