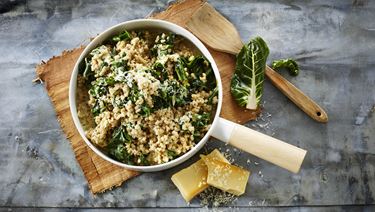 Bygotto with spinach, silver beet and Digekrone block cheese
Heat the oil in a thick-bottomed saucepan and sauté the onions until clear. Add the pearl barley to the pan and cook for a couple of minutes.
Add the half of the stock and let the barley soak it up all before adding the rest.
Add half of the stock and let the barley simmer over very low heat. Make sure the barley absorbs all of the liquid before adding more. Continue with this process for approximately 30 min., stiring constantly, until the barley is tender with some bite. Remove the leaves from the silver beet stalks and chop the stalks into small cubes.
Heat some oil in a pan and quickly sauté the garlic, spinach and silver beet leaves over high heat. Let the vegetables drain in a sieve for a few minutes.
Add the cheese and cream to the bygotto – the consistence should be soft and creamy.
Finally, stir in the vegetables and season to taste with plenty of pepper and possibly a little salt depending on how salty the stock was.
Add the cubes of raw silver beet stalks and serve piping hot.