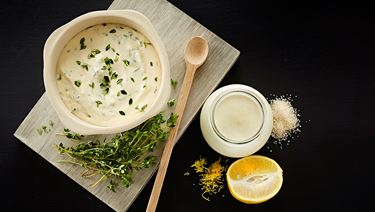 Cream dressing with lemon-thyme
An old-fashioned dressing that tastes divine in all its simplicity. The thick cream combined with both tart and sweet goes well with almost any type of vegetable, such as potatoes, pointed cabbage, baby salad greens, beans etc. For a lighter version, you can substitute half of the cream with buttermilk.
Combine all of the ingredients for the dressing in a bowl. Mix thoroughly and let rest on the kitchen worktop for 10 min. Chop the lemon-thyme, add to the dressing and serve.

To serve

With salads, baby vegetables or baked root vegetables.