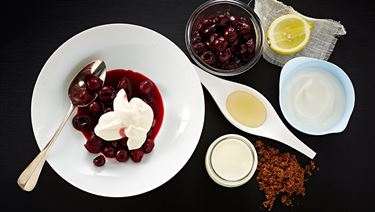 Baked cherries with brown sugar cream
Cherries can be used in a variety of ways and do not always have to be fresh. In this recipe, they are baked with honey and lemon juice until they collapse slightly and take on a deep, dark-red color. The intense flavour of the baked cherries is heavenly in combination with the brown sugar cream. You can also fold the cherries into the cream and use it as a filling in a layer cake or a crisp merengue basket.
Place the cherries in an ovenproof dish and sprinkle with lemon zest and lemon juice, then pour honey over everything. Give the cherries a stir, then bake for approx. 10 min. at 150°C – until slightly collapsed and juicy. Remove the cherries from the oven and allow to cool.

Brown sugar cream

Combine the yoghurt with the brown sugar and lemon juice into a smooth cream. Whip the cream lightly, then fold into the brown sugar mixture to make a light and fluffy cream. Serve the baked cherries with brown sugar cream for dessert or as an afternoon snack.

Tip

You can also serve the cherries with ice cream, parfait or lightly whipped cream.