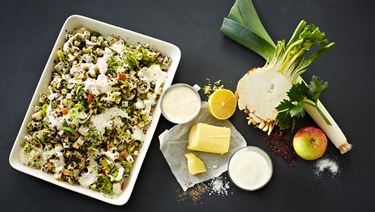 Black quinoa with sugar-salted leeks and baked celeriac
Sugar-salting tones down the sharp taste of the leeks, while the apple gives the leeks and smoothy celeriac some juicy bite. Black quinoa adds contrast to this hearty dish The salad is held together by the salty, acidic and fresh lemony aroma of the creamy buttermilk dressing.
Baked celeriac

Peel the celeriac and place on a large piece of aluminium foil. Sprinkle with salt and top with butter. Wrap it in foil and bake for approx. 1½ hours at 150°C or until very tender. Allow to cool slightly, then cut into smaller pieces.

Sugar-salted leeks

Combine the sliced leeks with sugar and place in a sieve. Let them drain for at least 30 minutes.

Laban dressing

Beat the buttermilk, cream, lemon zest and juice, salt and freshly ground black pepper until creamy. Season to taste.
Combine the celeriac, leeks, quinoa and apples. Arrange in a dish and pour the buttermilk dressing over everything.