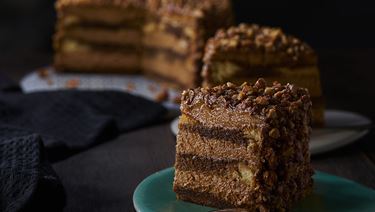 Tiramisu
Recipe by: Chef May Foo
Vanilla sponge

In a mixer, combine all except oil. Whip till light & fluffy. Fold in oil. Portion into 2 units of 9 inch rings. Bake at 180°C for 45 minutes.

Coffee syrup

Combine all in dissolve instant coffee powder into hot boiling water.

Caramelized almond

Stir in roasted almond into caramelized sugar. Mix well. Coarsely chopped.

Tiramisu filling

In a mixer, beat cream cheese & icing sugar till smooth. Pour in gelatine solution, coffee solution. Strain cream cheese coffee mixture. Lastly, fold in whipped cream into cream cheese coffee mixture.

Assembling

Slice sponge horizontally into 2 equal layers. Each cake Require 3 layers of sponge. Spray vanilla sponge with coffee syrup. Spread 265G Tiramisu mousse onto sponge. Repeat 2X. Coat the cake with caramelized almond.