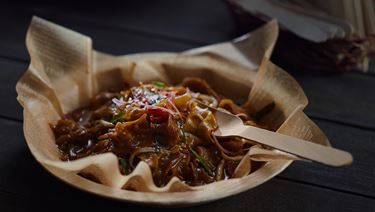 Salted Egg Wet Kuey Teow
Heat and season wok by wiping a thin layer of oil around it with a paper towel. When wok is hot enough (layer of oil is dried), add cooking oil and wait until it reaches 180 - 200°C.
Add curry leaves and bird's eye chilli. Season with salt. Next add 2 tablespoons of aromatics, chilli 'boh' and fry fish cake/ prawn until fragrant.
Quickly add salted egg yolk powder, dark sauce mixture, water, dried shrimp and torch ginger. Add butter and cook until small bubbles start to form on surface.
Reduce to low heat and add Whip & Cook, stirring well (ensure combined well, but don't overcook). Add kuey teow, bean sprout and chives.