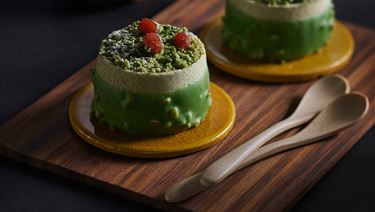 Matcha Red Bean Anko
Recipe by: Chef Bernard Tan
Matcha Sponge

Whip up egg white and sugar until soft peak. In other bowl, mix well milk, melted butter, egg yolk, flour, matcha powder, salt, baking powder, and corn flour. Combine well both mixture. Pour and spread on the baking tray . Bake at 190ºC for 12 minutes.

Candied Red Bean

Soak red bean overnight. Boil with water for 2 times. Bring to boil red bean that already been boiled 2 times together with sugar and water until the bean is cooked and candied.

Matcha Crumble

Mix all ingredients until it form a crumbly dough. Bake it at 170ºC for 15 minute.

Cream Cheese Cream

Cream up icing sugar, butter, vanilla essence and matcha powder. Add in cream cheese and continue beat up.