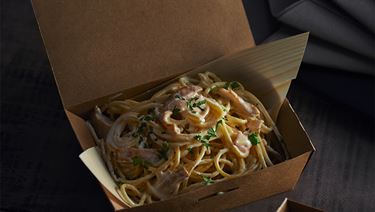 Creamy Chicken Ham Pasta
Mix nacho powder with water until powder dissolves. Set aside.
Heat pan with oil and fry garlic and onion until golden. Add nacho powder mixture, stir well. Next add fried chicken ham, oregano and bay leaf.
Add Arla Pro Whip & Cook, chicken stock and season with salt, continue to stir until everything is well combined.
Stir in pasta and ready to serve.