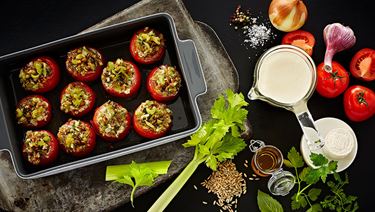 Stuffed tomatoes with grains and herbs
Stuffed tomatoes with bacon, mushrooms and whipping cream is an all-time classic. Here it comes in a new and updated version. These baked tomatoes stuffed with vegetables, grains and fresh herbs taste divine and look fantastic on a buffet table.
Slice the tops off of the tomatoes and hollow them out with a teaspoon (save the tomato flesh for a soup, sauce etc.). Sauté the onion, garlic and celery briefly in some olive oil. Remove from the heat and combine with the steamed grains, cream, goat's cheese, chopped herbs, salt and pepper. The stuffing shouldn't be too runny. Season to taste, then stuff the tomatoes. Place the stuffed tomatoes in a greased ovenproof dish and drizzle with olive oil. Bake the tomatoes at 225°C for 15-20 min. until baked through and crispy brown on top. Serve the tomatoes hot or cold as a lunch/vegetarian dish or as a side dish with a main course. Tip: You can use cream cheese instead of goat's cheese.