Spaghetti Carbonara With Fresh Peas & Tomato Salad
Enjoy a classic Italian favourite with a twist – carbonara with peas. This simple and delicious dish combines perfectly cooked spaghetti with creamy carbonara sauce and tender green peas. Carbonara with peas is a delightful blend of flavours and textures that make for a satisfying meal. Creamy, savoury, and with a touch of freshness from the peas, it's a great choice for any menu.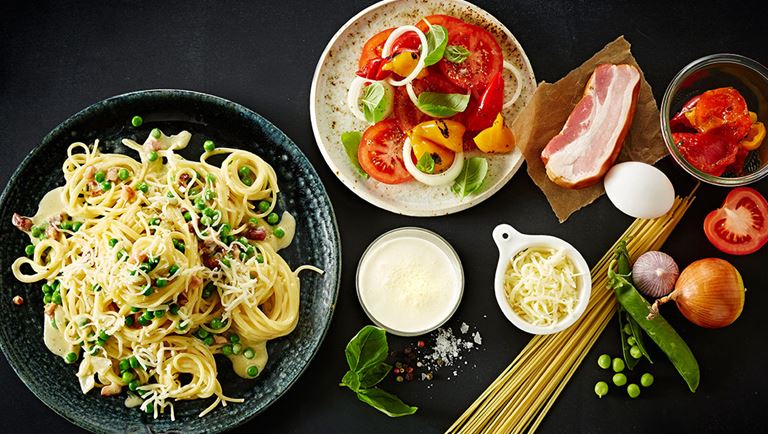 Place the bacon in a cold pan and fry over medium heat for about 5 min. until crisp and golden.
Remove the bacon, but leave some of the fat in the pan.
Add the onion and garlic to the pan and sauté for 2 min.
Add the cream, salt and pepper to the pan and bring to a boil.
Beat the eggs and 100 g of the cheese together in a bowl.
Boil the spaghetti according to the instructions on the package, taking care it doesn't get too soft.
Drain the spaghetti in a colander, then return it to the pot along with the peas. First stir the warm cream mixture into the spaghetti, then add the bacon and the egg-cheese mixture.
Season to taste and serve immediately with the rest of the cheese and a tomato salad.