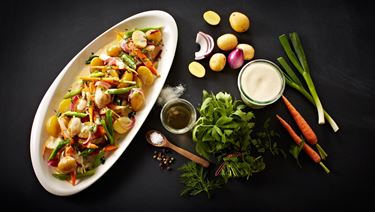 Warm potato salad with vegetables and herbs
Boil the potatoes in lightly salted water until tender but firm. Halve the potatoes.
Bring the vinegar, sugar, salt and pepper to a boil in a heavy-bottomed saucepan. Add the carrots and red onions and cook covered for about 1 min. Add the whipping cream and cook uncovered for another 5 min. Combine the potatoes with the spring onions and heat through. Season to taste.
Sprinkle the potato salad with fresh herbs.