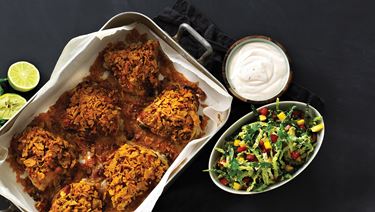 Mexican chicken with colourful salad
Place the chicken pieces in a dish and season with salt and pepper. Crush the tortilla chips and combine with the grated cheese. Spread the salsa over the chicken and sprinkle with the cheese and crushed chips. Bake the chicken at 200°C for about 30 min.

Salad:

Combine the cabbage, mango, bell peppers and other ingredients in a bowl. Season to taste and serve.

Dressing:

Combine the crème fraîche, chilli sauce and salt. Season to taste.
Garnish the crispy chicken pieces with fresh coriander leaves and serve with the salad, dressing and brown rice.