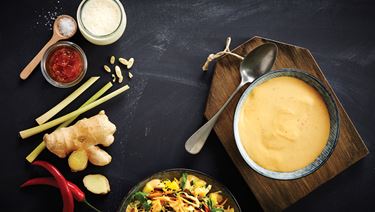 Lemongrass dressing
Lemongrass has many of the same aromas as you find in cream, which makes them a perfect match. In this recipe, we've built on the Asian origin of lemongrass, adding ginger, chilli and mango chutney.
Remove the outer leaves of the lemongrass and finely chop the stems.
Cook the cream with the lemongrass, ginger and chilli over low heat for about 1 min., then remove the saucepan from the heat and allow the spices to stew for about 5 min. Blend the cream and spices with the mango chutney and salt. Let the dressing cool.
Lemongrass dressing goes wonderfully with a salad made from pointed cabbage, carrots, mango, fresh coriander and black sesame seeds.