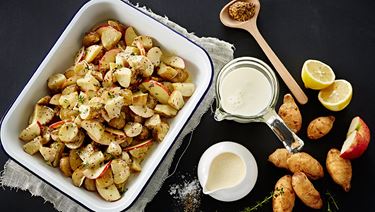 Creamy Jerusalem artichokes with mustard and apples
Jerusalem artichokes, nutty and sweet, go very well with tart ingredients, such as lemon, wholegrain mustard and fresh apples. Creamy Jerusalem artichokes is a quick and tasty baked dish that can be served with both fish and chicken or alone as a vegetarian main course.
Rinse the Jerusalem artichokes carefully, removing all soil. Cut the Jerusalem artichokes into chunks of approx. 2 x 2 cm. Place them in an ovenproof dish.
In a bowl, whisk the cream, water, mustard, lemon zest and juice, salt and pepper together. Chop the thyme, add half to the cream and stir. Pour the cream mixture over the Jerusalem artichokes and place in a preheated oven at 180°C. Bake the Jerusalem artichokes for 25-30 min. until they have absorbed most of the cream and the top is a lovely golden-brown. Remove the dish from the oven and allow to cool for a couple of minutes.
Cut the apples into thin wedges and combine them with the rest of the chopped thyme. Arrange the apple slices on top of the Jerusalem artichokes and serve while hot and tender with the crisp fresh apples on top.