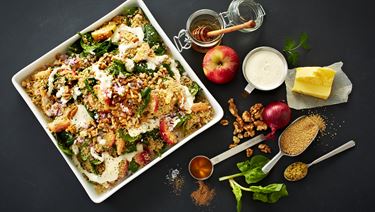 Couscous with fried apples, walnuts and creamy dressing
Slightly tender fried apples come into their own when combined with the taste of browned butter and crushed coriander. The lightness of the couscous holds the apples, walnuts, parsley and spinach together in a hearty and distinctive dish full of flavour. A creamy dressing made from cream thickened with vinegar and seasoned with honey and salt rounds off the dish.
Bring the vegetable stock to a boil and pour over the couscous. Cover and let the couscous soak for approx. 15 min., then stir and loosen the couscous with a fork and allow to cool.

Fried apples

Sprinkle the apples with the coriander and fry in butter until slightly tender – approx. 3 min. Let the apples cool.
Combine the couscous, apples, parsley, red onion, salt and pepper and stir well. Carefully stir in the baby spinach leaves and sprinkle with walnuts.

Creamy dressing

Beat the cream, honey, apple cider vinegar and salt until creamy.
Arrange the couscous in a large dish and pour the creamy dressing over it.