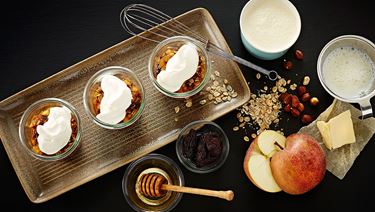 Apple-prune trifle with roasted rye flakes and whipped cream
Soak the prunes in water overnight. Place the prunes, water and sugar in a saucepan and boil for about 10 min. until the prunes are slightly mushy.
Add the apple cubes and continue cooking for about 5 min. until the apples are heated through, but still firm.
Adjust the taste with a bit more sugar if needed, depending on the sweetness of the apples. Allow the apples to cool.
Melt some honey in a saucepan along with the butter. Sprinkle the nuts and rye flakes in a roasting tin, pour the honey mixture over and mix thoroughly.
Bake at 175°C for about 15-20 min. until the flakes are golden-brown. It's important that they turn nice and brown to ensure plenty of crunch and flavour.
Whip the cream until stiff. Add the milk and beat for a moment. This reduces the fat content of the cream but retains the delicious taste and it makes the whipped cream light and fluffy.
Pour the apple compote into glasses and sprinkle with the rye flakes. Top with whipped cream and serve.