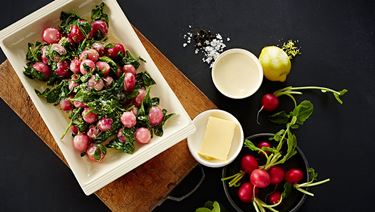 Creamed radishes with spinach and lemon
This is one of the few dishes in the cream calendar that doesn't skimp on the cream. The cream is boiled down until it is thick, creamy and extra flavourful. Then, plenty of fresh radishes and baby spinach are added. This dish tastes heavenly, but remember to eat some meat and bread, too.
Bring the cream to a boil in a saucepan. Boil until the cream is reduced by half. Remove the ends and leaves from the radishes, saving the nicest leaves for garnish if you like. Rinse the spinach and drain thoroughly. Heat a large frying pan, add butter and sauté the radishes for 2 min. until they shrink slightly, but still have some bite to them. Add the cream and spinach to the radishes and give it a good stir so everything is nicely coated in the cream sauce. Season to taste with lemon zest, salt and freshly ground black pepper. Serve immediately, while the radishes are still crisp and the spinach still has its enticing colour. The cream sauce makes a lovely accompaniment to chicken, veal and cold meat (cold cuts).