Braised Veal Shank With Apples & Mushrooms
Enjoy the savoury delight of braised veal shank with this simple and straightforward recipe. This hearty dish combines tender veal shank with the sweet, tart and rich flavours of apples and mushrooms, creating a satisfying and wholesome fall menu item. Whether it's main dish on your menu or a comforting staff meal before service, this recipe of braised veal shank is easy to follow and promises a flavourful result. Explore the full details below and savour the goodness of braised veal shank on your plate.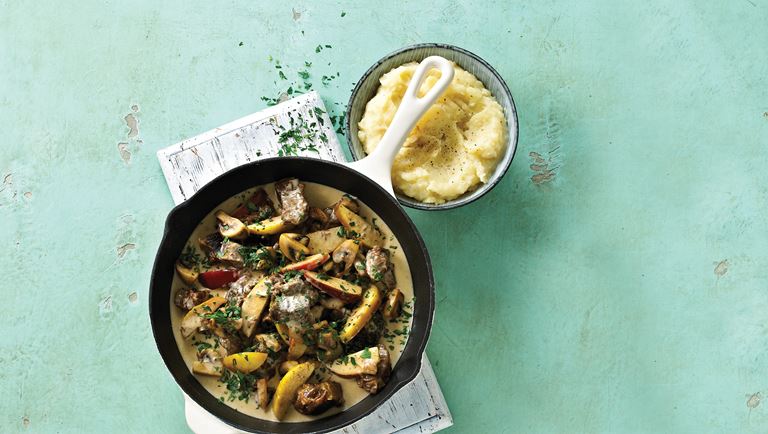 Make 3 or 4 incisions in the edge of each veal shank.
Brown the shanks in the oven for about 5 minutes at 250°C in a deep gastronome dish.
Add the onion, garlic, sprigs of parsley, salt, pepper, apple juice and veal stock and cover with the lid (or aluminium foil).
Braise the shanks at 150°C for about 4 hours or until very tender. Leave the skanks to cool, then cut the meaty parts into chunks.
Sieve the stock and skim off the fat.
Melt the butter in a pan and sauté the mushrooms for about 5 min. until golden. Add the apples and cook for another 2 min.
Now combine the meat, stock, whipping cream, apples and mushrooms in one pot and heat through. Stir in the parsley just before serving.

Root vegetable mash:

Boil baking potatoes, celeriac and parsley root in a pot until tender – approx. 30 min. Drain and let cool slightly.
Mash the root vegetables, adding milk, salt and pepper to taste.