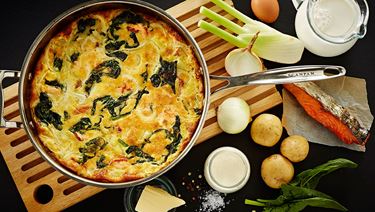 Omelette with fennel, spinach, potato and smoked salmon
Omelette full of vegetables and hot-smoked salmon. This omelette is full of intense flavour and beautiful colours. Serve with coarse rye bread and lovely pickled onions – either hot or cold.
Sauté the fennel, onions and potatoes in butter in a frying pan and season with salt and pepper. Sauté the spinach separately until slightly wilted. Add the spinach to the potato mixture along with the hot-smoked salmon. Beat the eggs, cream and milk together and pour over the vegetables in the pan. Cook the omelette for a couple of minutes in the pan until it begins to set, then pop it into the oven. Bake the omelette at 200°C for 10-20 min. until firm and slightly golden on top. Serve the omelette warm with coarse rye bread. It can also be served cold as part of a buffet.