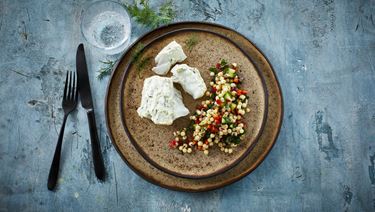 Cod with Persian yoghurt topping
Marinated shallots

Pour the vinegar over the dried onion slices, then let stand for at least 24 hours, ideally longer.
Place the marinated shallots, yoghurt, butter, salt and dill in a small food processor. Blitz until smooth and creamy.
Top each piece of cod with a large tablespoon of the yoghurt marinade and bake at 160°C for approx. 10-12 min.

Tips

Sun-dried shallots can be purchased in ethnic markets. You can also substitute the sun-dried shallots with ¼ of a brown onion. Make a large batch of marinated onion slices and use them in other types of dips and dressings. It is a good idea to make a larger portion of the yoghurt marinade so the blender has more to work with.
Melt the butter when the onion slices have marinated in the vinegar for least 24 hours.
Use a small food processor or make a larger portion in a larger blender.
Blitz until smooth and creamy.
Spread the cream on the cod, then bake until flaky.