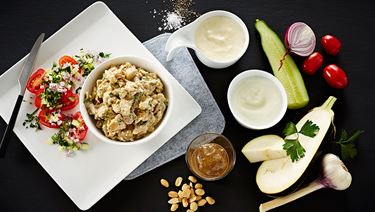 Aubergine dip with tahini and parsley
Coat the aubergines with oil and bake whole at 200°C for 30-40 min. until tender. Let the aubergines cool slightly.
Then scrape the flesh out of the skin shell in pieces that are as large as possible.
Let the aubergine flesh drain in a sieve for a few minutes.
Combine the tahini, yoghurt, cream, lemon juice, peanuts, garlic, parsley, salt and pepper in a bowl.
Roughly chop the aubergine flesh and stir into the dressing. Season to taste.
Serve the aubergine dip in a flat dish and arrange the tomatoes on top. Sprinkle with cucumber, red onion and parsley and serve with toasted pita bread.