Smooth Strawberry Parfait With Cream
This strawberry parfait is a fresh and creamy mouthful that is incredibly easy to make – and you can make everything without an ice cream maker. This dessert layers velvety cream with ripe, juicy strawberries. If you want to add more texture to the strawberry parfait, you can make an almond crumble for that perfect crunch. This exquisite strawberry parfait is an easy and delicious dessert to suit any menu – and guaranteed to impress your taste buds and guests alike.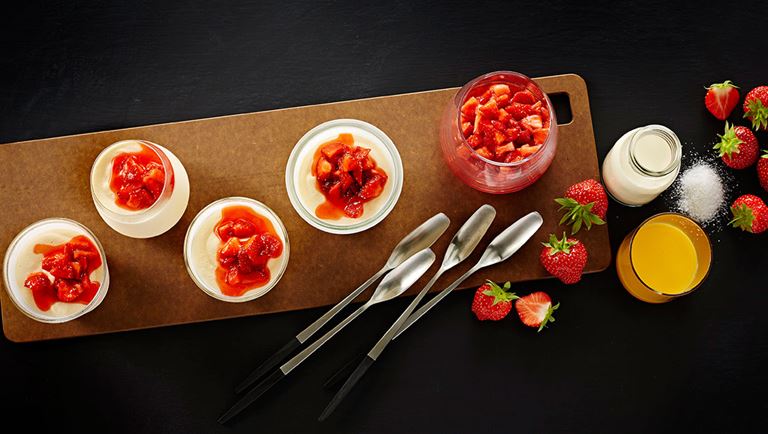 Parfait

Bring the water and sugar to the boil, then remove the saucepan from the heat. Beat the hot syrup into the egg yolks, then return to the saucepan.
Whip into a light froth over low heat – take care it doesn't get too hot.
Remove the saucepan from the heat and allow to cool slightly.
Lightly whip the cream, then gently fold into the egg mixture.
Pour the parfait mixture into one large serving dish or ten small dishes for individual servings, then freeze.

Strawberry topping

Rinse and hull the strawberries and drain them carefully. Cut them into small pieces, sprinkle with sugar and leave for 10-15 min. Serve with the parfait.

To serve

As a dessert or a tasty little refreshment for meetings.