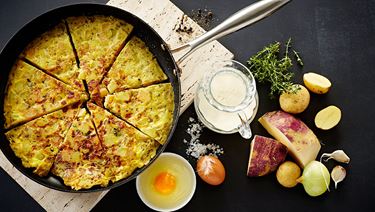 Kohlrabi tortilla
The Spanish omelette, or <i>tortilla</i>, is one of the most popular dishes in Spain. The Spanish eat tortilla as it is, as a tapas or as a light dinner. It is also often served between two slices of bread as a kind of sandwich called <i>bocadillos</i>. The original tortilla filling is potatoes, but it can be varied endlessly with all kinds of vegetables. In this version, we've used kohlrabi.
Combine the onion, garlic, kohlrabi and potatoes. Heat some olive oil in a large frying pan (about 30 cm in diameter). Add the vegetables and cook covered or in the oven until tender and slightly golden, approx. 30 min. Stir the potatoes frequently. Beat together the eggs, cream, thyme, salt and pepper. Add the warm vegetables to the egg mixture and stir well. Remove the oil from the pan and wipe it dry. Heat some fresh oil and pour the egg mixture into the pan. Turn down the heat to medium. Let the tortilla sizzle and bubble for 10-15 minutes until it begins to set around the edges. Place a plate over the pan, turn the tortilla over onto the plate and let it slide back into the pan, then let it get nice and crispy on the other side – it will take 5-6 min. Turn off the heat and allow to cool slightly before cutting the tortilla into triangles.

Tip

For larger portions, the tortilla can be prepared in the oven in a gastronome dish lined with baking parchment. With this method, it is cooked on only one side. Then it is turned out and served with the crispy side facing up. The baking time is approx. 30 min. at 175°C. Kohlrabi tortilla can also be served with hot fish cakes, boiled smoked saddle of pork, steak and a crisp salad.