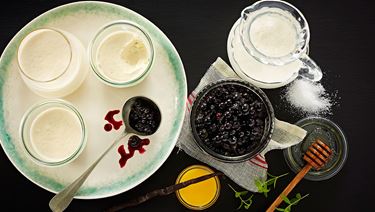 Baked blackcurrants and parfait with vervain and vanilla
Lemon verbena is a somewhat overlooked herb in Denmark. However, it is growing in popularity thanks to new Nordic cuisine. It is the oval, rough and pale green leaves that are used in cooking. In August, the plant develops little white flowers, which are also edible. It gives this ice cream a lovely lemony flavour.
Place the blackcurrants in an ovenproof dish, lined with baking parchment if you like. Add the honey and vervain leaves and give it a good stir. Bake the blackcurrants for 10-15 min. at 160°C until the berries 'crack' and absorb the flavour from the honey and vervain. Remove the berries from the oven and let cool completely in the dish. They should be cold when served with the parfait.

Parfait

Split open the vanilla pod and scrape out the seeds. Bring the water, sugar and vanilla seeds to a boil and remove the saucepan from the heat. Whisk the hot syrup into the egg yolks, pour the egg mixture back into the saucepan and whisk until light and foamy over low heat – taking care that it doesn't get too hot. Remove the saucepan from the heat and allow the egg mixture to cool slightly. Lightly whip the cream, then fold it into the egg mixture along with the vervain leaves. Pour the parfait into a serving dish or ten small dishes for individual servings and freeze for 3-4 hours, depending on the size of the dish(es) used. Serve with baked blackcurrants. Any leftover blackcurrants can be stored in a glass container with a tight-fitting lid. Serve them as you would jam or compote, for instance with cheese.