The great taste of LURPAK® in a convenient portion
LURPAK® Spreadable Portions are made with 100% natural ingredients. Churned with the finest milk to create a delicious spreadable butter.  
Exclusive research with hotel guests has revealed the importance of portions with breakfast and the quality and brand power of LURPAK®. Over three-quarters of guests have an individual butter, spread or margarine portion with their breakfasts – and LURPAK® is the preferred brand.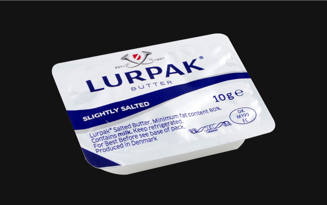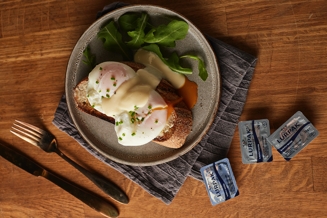 Guests also link the brand to quality
When it comes to offering a branded option it's important to understand the perceptions consumers have on the brand. In research comparing LURPAK® to other leading brands it outperformed the rest in the following:
Great tasting

Premium

Containing high-quality ingredients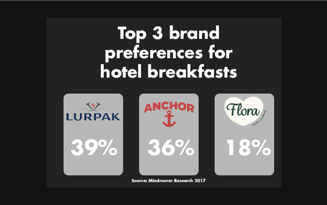 LURPAK® held its consistency and solidity well. When making scones it is really important that the butter goes in cold and LURPAK® kept its cool.

Jemima Giblin, owner of Leakers'
Discover the Range...
Lurpak® Spreadable Slightly Salted Butter 2 kg
The great taste of Lurpak® spreadable, made from 4 simple ingredients milk, salt, rapeseed oil and water. Making it easy to spread right from the fridge saving time and effort. Contains no palm oil, hydrogenated fats, artificial colourings, preservatives or other additives. Suitable for vegetarians.
See product
Lurpak® Slightly Salted Butter 250g
With its delicate taste, Lurpak® butter enhances the flavour of whatever food it is added to. From tangy sourdough bread to earthy potatoes, its subtle notes complement every creation. Suitable for vegetarians.
See product