Coffee sales currently create £9.6 billion in revenue in the UK, a figure which is expected to increase to £13 billion by 2022*. Yet despite the market soaring, there still remains an untapped market of coffee drinkers, offering a significant, potential income for coffee & restaurant operators.
With quality coffee available to purchase on every high street, consumer's standards are continuing to rise, with the spotlight on every component of the drink – especially the milk. As the top three hot drinks for UK consumers are currently lattes, cappuccinos, and hot chocolate*, milk is a key ingredient when it comes to delivering the good quality taste, texture, and appearance that consumers have grown to love and expect.
Lacto free products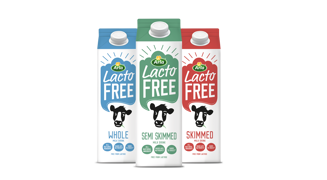 Compromising on taste
When purchasing coffee, 89% of lactose intolerant consumers say milk is important to the taste, texture, and appearance of the drink. And while plant-based alternatives, such as soy and almond milk, may be lactose free, - they lack the goodness and the unique taste found in dairy. In fact, a third of consumers said that they would opt for plant-based options out of necessity rather than choice, with 58% resorting to black coffee, and 15% avoiding tea and coffee completely when dining out.
The lack of options for lactose free consumers has created a gap in the market for those where coffee is a key revenue stream. Serving a high quality cup of lactose free coffee has the potential to give a business an edge over its competitors, helping them to capture a small army of loyal coffee drinker