At Arla Pro, we are constantly searching for new ways to reduce our carbon footprint. One of the things we're looking into is fueling our trucks with biofuel made from cow manure
Besides delivering some of the best milk in the world, our cows also provide us with amble amounts of manure. Instead of hosing it away, we've started to collect it and ship to anaerobic digestion plants, where it's converted into usable fuel to power dairy trucks. The process will also create nutrient rich fertiliser which Arla farmers can put back on to farms, making it an it an entirely closed loop, something that hasn't been done before.
Promising results
The project, which is carried out with leading experts in the field, is still on trial basis, but results from England, Denmark and Sweden show great promise. Going forward, we're hoping to expand the scope of the project to all our markets, making it a best practice for slurry management. If it proves a success, it will lay clear foundations for how the dairy industry can join forces with Government and other partners to reduce environmental impact.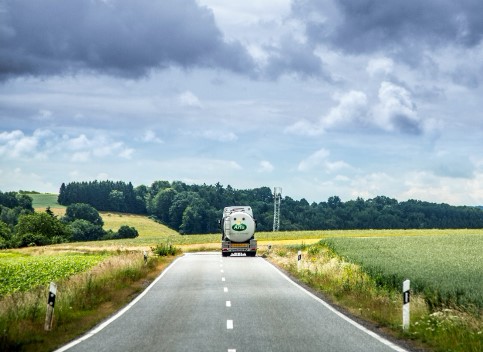 Inspiring new ways of working
The aim of the biofuel project is to also inspire other dairy farmers to explore more sustainable slurry management methods such as this one. Using manure in this way will help farmers to reduce the amount of methane and ammonia released into the atmosphere through manure left exposed.
Using manure from our farms helps us reduce our waste and rely less on air-polluting fossil fuels so we can already see clear benefits. With the help of our partners and suppliers, we have created a fully closed loop which, at scale, could be revolutionary in helping fuel a greener future.

Graham Wilkinson, Agriculture director, Arla