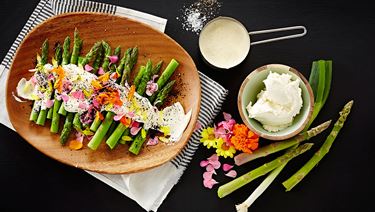 Green asparagus with cream cheese, flowers and charred spring onions
This dish can be served as a lunch dish, a salad or a vegetarian dish. It is beautiful to look at, and the combination of green asparagus and cream cheese is fantastic. Flowers are becoming quite popular for decorating desserts, but are used as a new visual expression in the savoury kitchen as well.
Remove the root ends and the tips of the spring onions. Rinse them in cold water and drip-dry thoroughly.
Cut the spring onions lengthwise and place them on a grate.
Roast/char the spring onions in the oven at 250°C for 20-25 minutes until they are completely black and charred. Remove the onions from the oven and allow to cool.
Crush the onions through a sieve or in a blender until you have a fine powder of charred onions.
Combine the cream cheese and cream until smooth and creamy.
Break off the woody ends of the asparagus and discard.
Bring a large pot of salty water to a boil and cook the asparagus for 1-2 minutes depending on their thickness. Remove the asparagus from the pot and plunge them immediately in cold water to halt the cooking process.
Place the asparagus in a serving dish, pour the cream cheese mixture on top and sprinkle with flowers, charred onion powder, salt and pepper.
Serve immediately with bread, crispbread or toasted rye bread.

Tip

This dish also tastes lovely with a sprinkling of finely grated lemon zest.

Other uses

The cream cheese mixture also makes a great salad dressing or dip for raw vegetables and toasted rye bread.