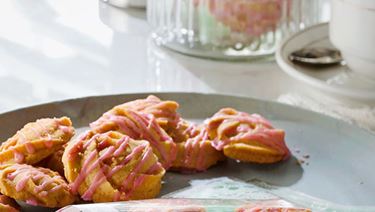 Butter Cookies With Rose Icing, 'Biskut Mentega Ros'
Procedure

In a large mixing bowl, combine Lurpak Salted Butter and sugar and blend until creamy and combined.
Add in egg, vanilla, salt, and baking powder, and continue to mix.
With the mixer on low speed, gradually add flour until it is completely combined.
Fit a large piping bag with a star nozzle and spoon in the cookie dough.
Pipe cookies into swirl shapes on a parchment-lined baking tray about two inches apart.
Bake in a pre-heated 180°C oven for 12-15 minutes or until edges of cookies are just beginning to turn golden brown.
Mix icing sugar with rose water and pink colouring until it forms a consistency that is suitable for piping.
Spoon into a piping bag, cut a small hole in the tip.
Once the cookies have cooled completely, drizzle the icing over.
Leave for a few minutes until the icing is dry to the touch.