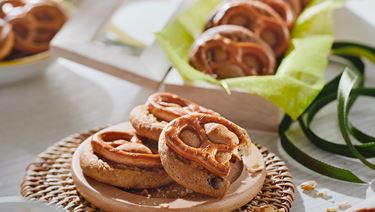 Pretzel Chocolate Chip Cookies, 'Biskut Cip Coklat Pretzel'
Procedure

In a mixing bowl, cream Lurpak Slightly Salted Butter, and sugars until creamy and well combined.
Add in egg and vanilla, mix until incorporated.
Sift flour, soda bicarbonate, baking powder and salt and mix into the mixture until it forms a smooth dough.
Add in the chocolate chips.
Shape the dough into balls and arrange on a parchment-lined baking tray roughly two inches apart.
Press one or half a mini pretzel unto the cookie dough balls.
Bake in a preheated 180°C oven for approximately 15 minutes.