Flexitarianism: A golden opportunity
The meat-free movement is sweeping across the globe, changing the habits of consumers and challenging chefs to think outside the box.
Flexitarianism is one of the fastest-growing culinary trends: A worldwide movement driven by environmental concerns and a desire to live healthier. In Sweden, one in three follow a flexitarian diet, opting for vegetarian food at least once a week. In Britain, one third of all evening meals are meat-free, while 35% refer to themselves as flexitarian. All over Europe, the pattern repeats with varying intensity.
**What **flexitarian consumers want
But do the meat-free products available today live up to the standards of the flexitarian consumers? The short answer is 'No'. In a recent survey carried out by ProVeg, 55% of consumers stated that there are not enough meat-free options on the market, while 50% said that existing products need to improve taste. Furthermore, 40% felt that meat-free alternatives contain too many unnatural ingredients.
Flip through the slider for more insights on this global movement.
Sources: 
Sifo, 2017; Linda McCartney Foods, 2017; ProVeg, 2018*
Our solution: Arla® Pro Grilling Cheese
Arla® Pro Grilling Cheese can help you overcome the challenges regarding taste and perceived "unnaturalness" that cling to many other meat-free alternatives. It's a simple, great-tasting and transparent product that will appeal to both foodies and conscious consumers. Compared with other non-meat products, it's easy to understand and easy to communicate. In the kitchen, it offers great versatility and an ease of use. We firmly believe that Arla® Pro Grilling Cheese can help you leverage the global meat-free trend to your advantage.
Arla® Pro Grilling Cheese Plain
Arla® Pro Grilling Cheese Plain is a non-melting cooking cheese with a mild and milky taste that everyone can enjoy. With its subtle flavour, it goes well with all types of ingredients, making it must-have for chefs catering to the flexitarian demographic.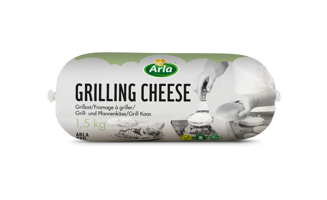 Arla® Pro Grilling Cheese Mild Smoked Chilli
Arla® Pro Grilling Cheese Mild Smoked Chilli is a non-melting cooking cheese infused with a subtle blend of spices, adding a slightly smoky flavour with notes of chilli. Great for vegetarian burgers, Mexican-styled wraps or deep-fried sticks and fries. No need for extra seasoning.