Arla and Arla Pro double CO₂e target for operations to meet 1.5°C
As one of the world's largest dairy producers and a partner to the global foodservice industry, Arla – and its foodservice division, Arla Pro – is constantly striving to reduce its negative impact on the climate. After having implemented Climate Checks on almost 8,000 Arla farms to accelerate the decarbonisation at farm level, Arla is now increasing its measures in production and logistics to further combat climate change.
With a new target to cut 63 per cent of the greenhouse gas emissions from production, logistics and energy usage by 2030 from a 2015 base year, Arla is doubling its previous 30 per cent reduction goal. Between 2015 and 2020 Arla has reduced its emissions from operations by 24 per cent and the next steps include a transition to fossil free fuels for the full fleet of milk tankers and distribution trucks and a shift to renewable electricity and low-energy solutions across the Company's production sites and offices.
The new 2030 target has been approved by the Science Based Targets initiative (SBTi) as consistent with reductions required in scopes 1 and 2 to keep warming to 1.5°C, the most ambitious goal of the Paris Agreement. Until now, Arla is one of only 61 food and beverage processors globally and one of the first farmer-owned dairy cooperatives in the world to have a 1.5°C target approved by SBTi.


"We are very pleased that the Science Based Target Initiative has deemed our target in line with what the latest climate science says is needed to meet the goals of the Paris Agreement. Dairy is widely enjoyed across the world and demand continues to grow, not least because of its richness in protein and calcium, its versatility and affordability. Together with our farmer owners, we have a tremendous appetite for leading the decarbonisation of dairy, so that people can continue to trust and enjoy dairy products – at home, at work or when dining out with friends and family," says Peder Tuborgh, CEO at Arla Foods.
Scope 3 targets to be reviewed in 2022
Whilst the SBTi has classified Arla's new 63 per cent target for scope 1 and 2 as consistent with a 1.5°C trajectory, the existing 30 per cent target for scope 3, covering among other things the Arla farms, continues to meet the SBTi's criteria for ambitious value chain goals in line with current best practice.
The SBTi is expected to launch a new sector guidance in 2022 for Forest, Land and Agriculture with more detailed requirements for setting science-based targets than previously available for companies in land-intensive sectors.


"Our ambition is to be in line with a 1.5°C trajectory in all three scopes of our value chain when it becomes possible. We will therefore review the SBTi's new sector guidance when it's released to see whether any changes to our current plans will be required," says Hanne Søndergaard, Executive Vice President with responsibility of Agriculture and Sustainability in Arla Foods.
Significant investments in sustainability action
Arla will be investing heavily in sustainability actions across its value chain as part of its new corporate strategy Future26. As previously communicated, Arla is prepared to increase its total investments by 40% to 4+ billion EUR and sustainability is a key investment area.
On top of the Company's investments, Arla's farmer owners will need to make significant investments individually to reduce the greenhouse gas emissions at farm level.


"Our owners stand strong on their commitment to climate action. The investments and change of practices that this requires from them are significant, which is why we have ambitious plans for how to turn their actions into value for our customers and consumers and why we will continue to share our data and knowledge with governments to show where their funding for the agricultural sector can have the greatest impact," says Peder Tuborgh.
Arla farmers are already among the most climate-efficient farmers in the world. Through Climate Check data and advisory services in combination with ongoing research and results from farm trials, for both conventional and organic milk production, Arla continues to make more knowledge and solutions available to its farmer owners to support them in reducing emissions and enhancing biodiversity.
With the ambitious new climate goal, Arla hopes to make a tangible difference, reducing its own environmental footprint, while enabling consumers, chefs and foodservice providers across the world to do the same.
Fossil-free fleet, green electricity and low energy solutions
Arla's pathway to deliver the 63 per cent CO₂ reduction in Supply Chain includes the following key actions:
Logistics
Convert Arla's own fleet of milk tankers and distribution trucks to fossil free solutions through biodiesel, biogas and electric vehicles. Reduce mileage through optimised routes Engage logistics suppliers in reducing their CO₂emissions
Production
Convert to 100 per cent green electricity in Europe through green power purchase agreements and investment in wind and solar projects complemented with purchased guarantees of origin for electricity produced on Arla farms. Reduce energy consumption through investments in low-energy solutions across Arla's dairy sites e.g. heat recovery solutions incl. heat pumps, electrification of boilers and general optimization of electrical powered equipment.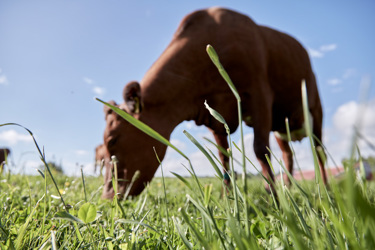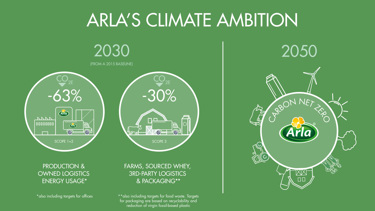 Arla's full climate targets from a 2015 base year:
63 per cent absolute CO₂e reduction in scope 1 and 2. (2020: 24 per cent)

30 per cent per tonne of standardised raw milk and whey intake. (2020: 7 per cent)

100 per cent recyclable packaging on Arla's own brands by 2025. (2020: Approx. 85 per cent)

0 per cent virgin fossil-based plastic on Arla's own brands by 2030. (2020: Approx. 85 per cent)

50 per cent reduction of food waste by 2030. (2020: 24 per cent)

Carbon Net Zero across all scopes by 2050.
Science Based Targets:
A science-based greenhouse gas reduction target in line with 1.5°C is consistent with reductions required to keep warming to 1.5°C, the most ambitious goal of the Paris Agreement. It reflects what the latest climate science has told us is needed to prevent the most damaging effects of climate change.

Arla's original commitment approved by SBTi in September 2019 was in line with 2.0 degrees. The target was a 30 per cent reduction from 2015 to 2030 in absolute terms for Scope 1 and 2 emissions and expressed as emissions per tonnes of milk and whey intake for Scope 3.

Arla is now raising its ambitions to meet the 1.5°C commitment by increasing the scope 1 and 2 target to 63%. This plan has been validated against SBTi Criteria V4.2 and approved by SBTi in December 2021.

The 30% target for scope 3 remains as this target meets the SBTi's criteria for ambitious value chain goals, meaning they are in line with current best practice.

The SBTi is a partnership between CDP, the United Nations Global Compact, World Resources Institute (WRI) and the World Wide Fund for Nature (WWF).
The three emission scopes in Arla based on the GHG Protocol definition:
Scope 1 emissions relate to the activities under our direct control. They include transport with Arla's vehicles, and emissions from Arla's production facilities.
Scope 2 emissions are the indirect emissions caused by the energy that Arla purchases, e.g. electricity, steam, heating or cooling.
Scope 3 emissions are from purchased goods and services (e.g. raw milk from our farmer owners and packaging materials), extraction and production of fuels, external transport and treatment of waste from our sites.
Do you want to know more?
Partnering with Arla® Pro means supporting responsible farming, sustainable production, animal welfare and the reduction of foodwaste. These issues are at the heart of what we do and what our farmer owners fight for, and it's a key concern for many of your customers. Explore our focus areas below – and join us on our path towards a more sustainable future.