Why Now for Pizza Delivery?
The pizza delivery market is thriving, now worth an estimated £2.1bn, making up half of the total UK delivery market today which has grown 73% in the last 10 years, despite the recent economic turbulence the hospitality industry has faced. So, it's no surprise that operators are seeing the value that a pizza offering can bring to their business. The delivery market as a whole has seen a dramatic increase as consumers seek out faster and more convenient ways of satisfying their needs. 
Offering pizza takeaway and delivery during these challenging times could be a great way to increase revenue and maximise use of ingredients in the kitchen. With delivery predicted to become increasingly more popular in the future, we have gathered expert advice which will help you set up a high standard pizza delivery operation. The simple steps in our free guide have been created to help you choose the right equipment, the best disposables and the optimum delivery method to serve pizza to your customers.
Step 1: The equipment
Some pubs and restaurants may already have suitable equipment for cooking pizzas, however, for those who don't, there are some key points to consider. 
Discover key considerations below. 
Step 2: Disposables
Packaging is used as a way to deliver your food in optimum condition but can also be used as a branding tool to communicate with customers and enhance the overall experience.
Discover key considerations below.
Step 3: Delivery
Planning rules have been recently relaxed which means pubs and restaurants can act as takeaways and deliver food, but there are a few points to consider before diving in. 
Discover key considerations below. 
Deciding how to deliver
When delivering, the two main options are to deliver the food yourself or via a third party. There are many providers out there who can help build your online ordering portal. Having an online system will relieve staff from telephone orders occupying their time which could be spent elsewhere. Online systems also allow your customers more control when ordering with specific dietary requirements, helping further speed up the process and removing the chance of human error.
Working with a third party
Pros:
• Benefitting from another company's resources and experience
• Opportunities to reach more people
• Greater time to focus on the brand and the food 
• A ready-made infrastructure (couriers, delivery tracking, secure payment methods)
Cons:
• High set up fees and commissions 
• Lack of control over the delivery experience and brand dilution
• Less communication and engagement with the end customer

Delivering yourself
Pros:
• Full control over the whole delivery experience
• No third-party communication barriers / greater brand control
• The ability to receive first-hand customer feedback
• Reduced longer-term investment 
Cons:
• The need for all resources to be self-funded
• Full accountability for any delivery issues
• Less visibility and opportunities to reach high numbers of customers (resulting in higher marketing costs)

Comparison delivery costs
Due to recent events, many companies are reducing their standard fees or providing additional support. Some third-party delivery companies are also choosing to temporarily reduce commissions and drop activation or sign-on fees so exploring the best offers before deciding to go ahead is recommended.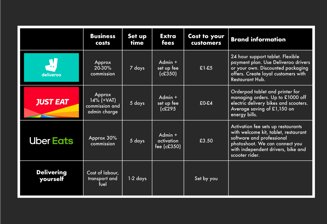 Take a Bigger Slice with Arla Pro
Choosing the perfect mozzarella can make or break your pizza on delivery, so it's vital you get it right. As demand shifts to delivery, it's important to consider how your cheese type will affect the final product as it travels, more so than ever before.
Cheese changes in taste, appearance and performance quickly as it cools, so it's worth rethinking your cut to maintain quality. At Arla Pro we've tested all our mozzarellas for the ideal balance of melt, coverage, stretch, oiling, browning and colour – so we can help.
Scroll down to discover our cheese tips on delivery...
Cheese delivery tips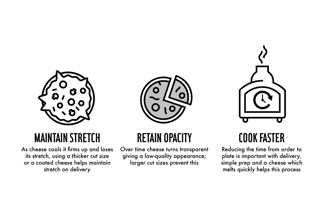 Pizza Cheese that Works for Delivery
Large Diced Mozzarella 2kg
A thicker cut size retains OPACITY as it travels while the diced format maintains a supple texture for maximum STRETCH on delivery. 
Key Benefits:
• Once cooked it resembles softer mozzarella formats such as buffalo, burrata and fior di latte to maintain an authentic appearance and a clear point of difference in a crowded delivery market
• Low moisture content allows the pizza to be cooked more evenly, giving a crispy base and a golden crust
• A 10 x 10mm cut size makes it the perfect solution for operators who use super-hot pizza ovens
• Thicker cut size maintains opacity as it travels
Arla Pro Large Diced Mozzarella Cheese 2kg
Fresh tasting creamy mozzarella in diced cubes Semi-soft cheese with a supple, elastic-like texture. Farmer owned - care in every step, from cow to you.
See product
Large Shredded Mozzarella 2kg
Thicker cut size than standard shredded mozzarella ensures even coverage with a FASTER MELT than diced formats, while still thick enough to RETAIN OPACITY.
Key Benefits:
• Perfect for delivery, retaining opacity as it's transported from kitchen to consumer
• A 4x4x20mm cut sizes means more stretch on the cheese once cooked
• Retention of colour/ opacity means you don't need to overload with cheese to achieve the desired result on delivery who use super-hot pizza ovens
Arla Pro Mozzarella Large Shredded 2kg
Fresh tasting creamy mozzarella large shredded. Semi-soft cheese with a supple, elastic-like texture. Great coverage on a pizza or other dis. Faster to cover and better portion control, Perfect for higher volume operations. Farmer owned - care in every step, from cow to you.
See product