Market Overview
According to the Meat, Fish and Poultry team at Kantar Worldpanel, in the 12 weeks to 15 July 2018, 1.2m more shoppers picked up a burger. Not only that but burgers made an appearance in 4.2m additional shopping trips.
According to Tolga Necar, Consumer Insight Director for Out of Home at Kantar Worldpanel, "The UK spent a massive £2.6bn on burgers in locations outside the home last year, growing 7.7% on the previous year. We ate 690m burgers last year – that's a rate of 1.9m a day, or 22 every second!"
When it comes to varieties, the traditional beef continues to be the most popular, according to a recent report by Kantar, who says it's growing at 21%, with slightly fewer consumers choosing a chicken burger – instead opting for wings and legs, both of which are in growth.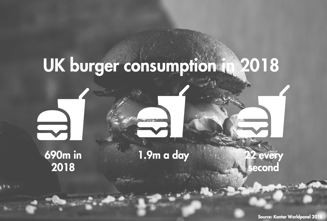 For the love of burgers
The love for burgers just keeps growing and growing! Burgers even have a day completely dedicated to their utter deliciousness. Yes, that's right – burgers have their own National Day and it takes place on the 23rd August. People all over the world celebrate by indulging in this stack of delight. Make sure you have this day pencilled into your diary, make a fuss of National Burger Day with limited-edition flavours and special offers to maximise your profits.