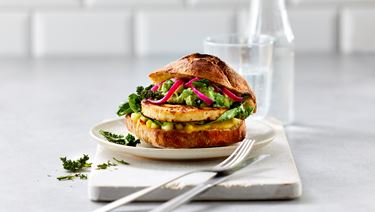 Sourdough burger with mango and crunchy kale
Pickled red onion with fennel seeds:

Cook sugar, vinegar, water and fennel seeds until sugar is dissolved. Cool Liquid. Add the red onion rings and allow to soak as long as possible. Place in pickle jar if desired.

Roasted kale:

Make roasted kale by tossing smaller pieces of kale with sea salt and cajun spices in a bowl. Then spread the leaves out onto a baking sheet covered with baking paper. Spray with cooking spray. Bake in oven at 120 °C for approx. 15 minutes. The kale should be crispy. Allow to cool before serving.

Mango creme with pineapple:

Mix together diced mango and the other ingredients, season and toss in the diced pineapple.

Chunky avocado mash:

Place avocado in a bowl and mash lightly with a fork. Leave it chunky if you like. Mix in the remaining ingredients and season.

Cooking:

Heat the butter in a pan on medium heat and fry the slices of Arla® Pro Grilling Cheese for 2-3 minutes on each side. Press down lightly to make sure the cheese browns evenly.

Serving suggestion:

Warm the sourdough burger buns in the oven and cut them in half. Assemble the burger, spread mango sauce on the bun bottom and bun top, add romaine lettuce, 1 patty of Arla® Pro Grilling Cheese, avocado mash, pickled onion rings, crushed roasted kale, and lastly put on the bun top.