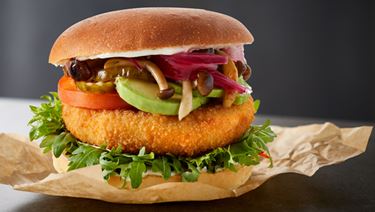 Porcini mushroom Burger
Crispy Coated Cheese Burger with porcini mushrooms, red onion pickle, garden tomato and avocado.
Method

Prepare the Arla Pro Crispy Coated Cheese Patties according to package instructions. Warm the burger buns in the oven at 170°C for approximately 8 minutes. Spread the bottom halves of the buns with mayonnaise and follow with Arla Pro Crispy Coated Cheese Patty. Add the tomato, avocado, mushrooms + onions and pickled cucumbers. Top with a burger bun spread with mayonnaise.