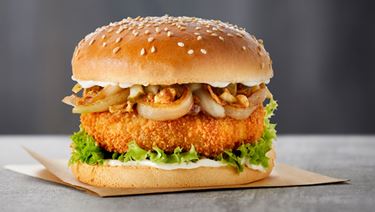 Oyster mushrooms Burger
Crispy Coated Cheese Burger with aromatic oyster mushroom and onions.
Method

Heat a heavy based frying pan with some oil and toss the onions and oyster mushrooms around In the pan at high heat until golden brown. Season with salt and pepper. Meanwhile prepare the Arla Pro Crispy Coated Cheese Patties according package instructions. Toast the burger buns and spread mayonnaise onto the bottom halves of the burgers. Top with crispy lettuce leaves, followed by the Arla Pro Crispy Coated Cheese Patty, onion and oyster mushroom sauté. Close the burgers with a top bun with a spread of mayonnaise.