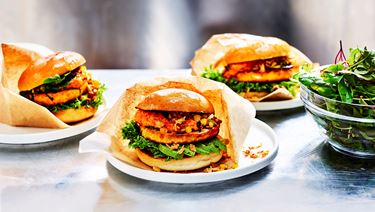 Mojo Rojo Burger
Mojo Rojo:

Rub the bell peppers with oil and roast in the oven at 200 °C for approx. 10 minutes or until the skin is charred. Allow to cool slightly, peel and deseed the bell peppers. Then mix with the other ingredients, and add salt, black pepper & cayenne pepper to taste.

Roasted sweetcorn:

Stir the blackened butter into the sweetcorn. Roast at 200 °C for approx. 10 minutes until the corn is nicely browned. Allow to cool and season with chilli powder. Thinly slice the spring onions and chop the chives. Mix the spring onions and the chives with the grilled sweetcorn. Stir in the spinach while the mixture is still warm.

Cheese patty:

Mix lemon juice & zest with chopped parsley, olive oil and black pepper. Sauté the slices on both sides and then brush with the lemon & parsley mixture. Serve immediately.

Serving suggestion:

Serve in hamburger buns. Bottom layer: Crispy lettuce and avocado slices. Middle layer: Grilled cheese. Top with mojo rojo and roasted sweetcorn salad. Garnish with a little crispy fried onion.