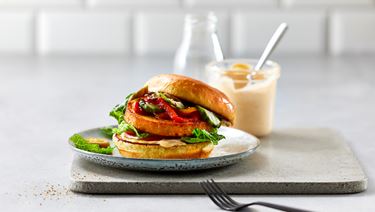 Mexican Brioche Burger
Home-made pickled cucumber in slices with bay leaves:

Mix together sugar, vinegar, bay leaves and peppercorns until sugar is dissolved. Salt the cucumbers and let them lie in a strainer/sieve for 15 minutes. Then quickly rinse before placing them in the vinegar mixture. Leave to soak as long as possible. Before serving, drain the liquid.

Grilled red and orange bell peppers:

Wash and dry the bell peppers, place on a baking sheet and grill for 20 minutes until they go dark. Keep an eye while grilling. Place them in a bag and allow to cool. The peel comes away easily once grilled. Cut the bell peppers in half, remove the seeds, cut into strips and cover with olive oil, smoked paprika and sea salt.

Chipotle mayo spread:

Mix together all the ingredients for the chipotle mayo.

Cooking:

Heat up fryer to 180 °C. Deep-fry the Arla® Pro Grilling Cheese patties for approx. 1½ min. Turn them as you fry until the surface is golden brown. Lastly, place on blotting paper to get rid of excess oil.

Serving suggestion:

Warm the brioche burger buns in the oven and slice them in halves. Assemble the burgers, spread chipotle mayo on the bun bottoms and bun tops. Arrange the Romaine lettuce, a slice of tomato, golden fried Arla® Pro Grilling Cheese, bell pepper strips, sliced cucumber and top with jalapenos. Cover with the bun top and serve with extra chilli sauce if you like.