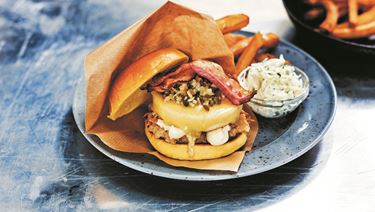 Double Cheese Burger
Grilling Cheese:

Fry the Arla® Pro Grilling Cheese patties on one side. Turn and fry on the other side. Top with a slice of cheddar. Season with freshly ground black pepper. Serve immediately.

Butter-braised onion:

Finely chop the white onions and take some of the butter. Start to sauté the onion. Add some salt. Heat away excess moisture from the onion. Tip in the rest of the butter and the blackened butter. Allow to braise until the onion is completely soft. Add vinegar and more salt to taste. It is important that the onion is completely soft and caramelised.

Jalapeño relish:

Finely chop jalapeno, onion and gherkins. Stir into vinegar, honey, salt and black pepper.

Serving suggestion:

Start with a toasted hamburger bun, preferably the brioche type. Bottom layer: The butter-braised onion. Top with a little crispy fried onion. Spread on a good-quality, neutral mayonnaise. Add the cheese patty and top with the jalapeño relish, some slices of crispy newly fried bacon and more crispy fried onion.